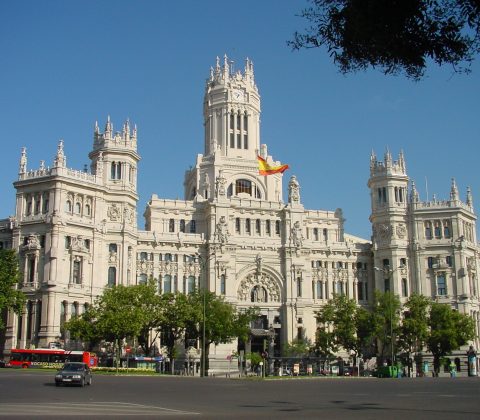 In the train station awaiting the train to Madrid, we ordered up some basic sandwiches (Spaniards have no concept of condiments! The bread is hard and dry; the meat is hard and dry. And that's all I ever got! No mustard, no olive oil, no garlic paste, no nothing. Back in the states a friend mentioned that he always ordered a sandwich de torta y jamón to combat that problem. Basically he combined two dishes – the potato omelette/pie and the ham sandwich to get the desired lubing. He said that the order went over ok with the locals; every other combination or request was offensive or inconceivable.).
Riding A Train
We slept on the luxurious bullet train and sailed into Madrid in the early afternoon. Because of the holidays, the taxi situation was abysmal and we waited an hour for a gig to the Hotel Puerta Toledo. The hotel was like a bad Best Western and it was in an odd location to boot. I'm not sure why we ended up there, but we weren't interested in rooting around for anything else and it was only for a night anyway.
We decided to walk to the Plaza Mayor (Old Madrid's great square – a great big pile of trash that is) and the Puerta del Sol (lively area with shops and cafes – translation: filled with chain restaurants and rife with pickpockets). We snacked at a Denny's-like place with poor service, lackluster food, and lousy clientele. Very unimpressive. Suzie and Christopher headed back to the hotel for a nap and Jake and I cruised down to the Palacio Real for a quick look-see before the sun went down. We didn't get a chance to enter, but we did check out the sprawling palace from the exterior.
After that we tried to track down some recommended restaurants and give them an once-over before we returned for dinner later that night. We settled on the oldest restaurant in the world, Botín (Calle de Cuchilleros 17) that served traditional Castilian favorites such as roast lamb and suckling pig. We decided to be adventurous and take the Metro back to our hotel – we were successful. After a quick nap we returned to the restaurant and dined on the aforementioned items.
Departure
The next day we got up very early again and hailed a cab to the airport. It turned out to be one of the scariest rides of my life. The cab lost power on the freeway but the driver insisted on continuing in second gear while cars whizzed past at high speeds. Finally he pulled over to the near non-existent shoulder when we hit a hill, but he refused to turn off the car and didn't have a radio to call for help. He wanted to keep going despite our requests to pull over. He finally pulled off the road at our insistence and we threw ourselves in front of a passing taxi. He was so upset that we didn't stick it out that he refused to accept money from us and kept cursing under his breath. We were just happy to get to the airport safely and get on our flight home.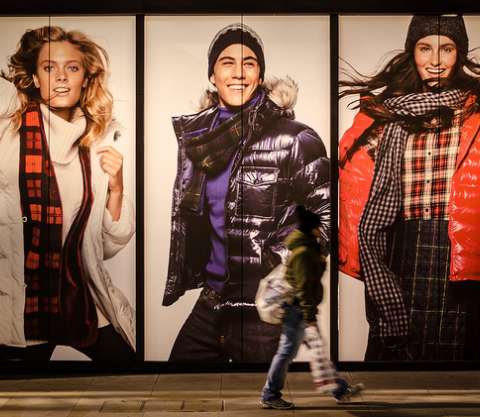 It's hardly believed but Reykjavik is good for shopping. City shops welcome you for shopping every season. Of course, shopping hours in Reykjavik are specific. Traditionally, he most of shops work for the whole day till late from 10 a.m.to 8 p.m. On weekends the hours are shorter. The tax is usually taken from every purchase in the shop, which is called value added tax. The best worthy district to shop is downtown. The city is huge and the roads go up and down through the mountains. Don't worry about the destination. Planning to shop or discover suburbs, you need a car. Car rental Keflavik under 21 rent a car point will help you to solve your travelling and shopping problems all together.
What to buy in Iceland? Here is the list of popular local stores that you cannot find somewhere else in the country.
66 NORTH
Clothes from 66 NORTH keep you warm and sheltered on a cold season. Every time you go out of your hotel you feel comfort and care from the legendary Icelandic brand. 66 NORTH was established in 1926 by Hans Kristjansson. He decided to make protective clothes for poor locals who worked outdoors. The weather conditions of Iceland are very nasty and cold. Right clothes can save your life and protect from cold, wind. What is the use from the company today? It produces warn outfits for tourists and locals for all kinds of outdoor activities. You cannot buy clothes of this brand somewhere else except for Iceland. Tourists, who come to visit Iceland for the first time, used to buy winter clothes and accessories right here.
ASTA CLOTHES
The clothes and accessories from this brand are made with hands. They are decorated with original design inspired by Icelandic climate, nature, landscapes. Asta Creative shops are found here and there in downtown city district.
EVA
Eva is situated in the historical center of Reykjavik. It combines such classic brands for women as Gerard Darel, DKNY, Malene Birger, Stella Nova, legendary Ugg, Billi Bi, Kristensen, Demoo, French Connection, VentCouvert, Strategia, Free Lance, Samsoe Samsoe, Herschel, Comme Des Garcons.
GALLERI LIST
Meet the oldest gallery in the city – Galleri List! It offers a wide selection of local arts from the Icelandic artists. The point is that all masterpieces are for sale. You can find something special for present, something that is dictated by local nature: oil paintings, drawings, sculptures and ceramic arts. Professional crafted packages and international shipping is available on your request.
JON & OSKAR
Meet one of the largest jewelry shops in the city. The unique jewelry collection is made of local and imported materials. Looking for something exclusive, come here. The shops usually boast the unique selection of jewelry, watches and other accessories of different price policy.
HANSINA JENS
Hansina is a unique sculptor shop that meets you with a combination of hand-made crafts. Such metals as gold and steel are used in producing jewelry. Icelandic stones and precious metals and stones are selected to produce original decorations.
KOLAPORTID FLEA MARKET
The Kolaportid Market is situated in the area of the old harbor. It is comfortably situated few minutes driving from the city center. There is indoor market that works every weekend. This is a place you can buy everything: vintage clothes, stuff, used books, antiques, dvd disks, knick knack crafts, toys. Kolaportid is good to know more about the city culture, local habits. This is a place to taste local street food and drinks. How about dried fish or fermented shark? It sounds awful! Traditionally, you can pay with cash only.
ORRIFINN JEWELS
Orrifinns is one more jewelry brand that everyone knows. The shop is owned by two designers Helga and Orri. The studio and workshop is located in a charming and small space, where you can see and meet with owners. The store is proud of their award – Reykjavik Grapevine that they got in 2015. If you think of rings and ear rings, necklaces this is not a half of that beauty that you can see. Every jewelry collection is symbolic, being inspired by nature elements. Some of their themes are very local but others are more exotic. All of the jewelry pieces are unisex.
SMARALIND
Smaralind Trade Center is considered to be the biggest store in Iceland. It is comfortably placed in the center of Reykjavik. The store traditionally consists of more than 90 shops and related services, including multi-national shopping trades, fashion boutiques, food markets, gift and souvenir shops, a multiplex, cafes and restaurants. There is a pleasant bonus for all who hasn't a car. There is a free transportation from the shopping mall to downtown Reykjavik. If you came on your transport, you can leave your car on a big parking territory. If you used to shop in a big mall, this shopping center is for you.
ANITA HIRLEKAR MAGNEA CONCEPT SPACE
A.M. Concept Space gives you a unique shopping experience. You are offered to see and to buy the unique samples of fashion and arts. This place is also unique because you can watch the process of creation a masterpiece for you. Such popular local brands as ANITA HIRLEKAR and MAGNEA are the first and the main to start creativity. The rest of designers join them every month to follow their imagination and wait for clients.
KAFFI VINYL
Vinyl is a new bar /cafe and record shop situated in the region of Hverfisgata. This street goes parallel to the main shopping street Laugavegur. This cafe is rather popular and atmospheric place to visit not only because of food but the choice of vine and vinyl records. Yes, the combination is rather strange. The cafe treats you with light snacks, vegetarian or vegan dishes, wines and cold drinks. The vinyl store offers vintage music machines, vintage grooves and classic albums. Every night in the cafe territory you are welcomed to listen to the music concert.